Singtel 500 Mbps Fibre Broadband
Singtel 500 Mbps Fibre Broadband
Singtel
Speed

Up to

500Mbps

Monthly

Cost

$49.90

Contract

Duration

12 Months

TV

Package

No

EnjoyCompare

Rating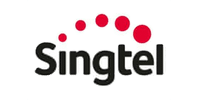 Fibre Broadband (up to) 500Mbps
Wireless Dual-band Router
4G Mobile Broadband Plan (500MB)
Local calls are free with Home Digital Line
10% off monthly Mobile subscription
Online exclusive: Weekday or weekend router installation worth up to $145 and Free registration worth $53.50
Singtel 500 Mbps Fibre Broadband
Broadband Review

Enjoy a complete online experience with Singtel Fibre Broadband! You can play music whilst surfing the internet or watching web videos, on several devices at home. Singtel has the largest Broadband network in Singapore and the most reliable too!
Author:
EnjoyCompare
Provider Details
The Singtel Group is the largest telco in Singapore providing a range of telecommunication services and products. These include home lines, mobile phones and plans, data, broadband internet, TV, cloud services, IT as well as digital services.
Their headquarters in Singapore, but Singtel have a number of investments in several countries that include India, Philippines, Indonesia, Bangladesh and Thailand.
Singtel's presence covers Asia Pacific, Europe, North America, and Australia, employing more than 23,000 staff globally.
Detailed Description
Benefits with Singtel
High-speed uploads and downloads
Optimal gaming experience
Access by multiple applications and multiple devices