StarHub 500 Mbps Fibre Broadband
StarHub 500 Mbps Fibre Broadband
StarHub
Speed

Up to

500Mbps

Monthly

Cost

$39.90

Contract

Duration

24 Months

TV

Package

Yes

EnjoyCompare

Rating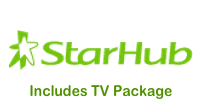 Low subscription rate of $39.90/month
Includes free Service Installation worth $53.50
FREE 6 months JuniorProtect Basic, for safe Internet browsing

Sign up for 500 Mbps Fibre Broadband online

StarHub 500 Mbps Fibre Broadband
Broadband Review

With a low monthly cost of $39.90, Starhub's 500Mbps Fibre Broadband should definitely be considered for your home.
Author:
EnjoyCompare
Provider Details
Starhub is known as the second largest telecommunication company in Singapore. They have an extensive high speed network providing a range of business and retail services. These include mobile, broadband, voice and wholesale services.
Detailed Description
StarHub also have an exclusive HP Promotion where you can top up and get an HP Envy or HP Spectre Notebook.
With the HomeHub product, StarHub have great add ons with nearly 80 TV channel providing the family with many entertainment options. In addition, you get unlimited local calls and Mobile Broadband.