MyRepublic Free PlayStation 4 Pro GAMER Bundle
MyRepublic Free PlayStation 4 Pro GAMER Bundle
MyRepublic
Speed

Up to

1Gbps

Monthly

Cost

S$69.99

Contract

Duration

24 Months

TV

Package

No

EnjoyCompare

Rating
Exclusive Gamer Perks includes 24/ Gamer Hotline, Live Latency Monitoring, Razor discounts and Custom Routing
Enjoy FREE home phone line with unlimited local calls
$70 New Router Discount
Enjoy FREE TP Installation (worth up to $235.40) for new customers
Whats more new customers enjoy $9.90 off the upcoming FIFA 18 PS4 game
FREE PlayStation® 4 Pro 1TB + 1 DualShock® 4 Controller, plus 1 Year Warranty (worth $599)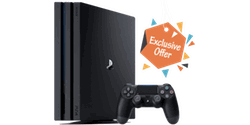 MyRepublic Free PlayStation 4 Pro GAMER Bundle
Broadband Review

MyRepublic Free PlayStation 4 Pro GAMER Bundle
Its not everyday that a broadband provider offers fantastic gaming speeds and the console to go with it! With the new Free Playstation 4 Pro GAMER bundle, new customers enjoy S$599 worth of console, free TP installation (worth S$235.40) and free home phone line with unlimited local calls.
MyRepublic believes that customers should have high speed internet service at affordable prices. The 1 Gbps Fibre Broadband package is currently one of the best on the market, but at S$69.99 a month its also one of the most expensive. In fact if you remove the free PlayStation Promotion and the Free TP installation, new customers are paying S$35.22 a month for 1Gbps, which i a little more than other broadband plans offered by MyRepublic.
MyRepublic provides ultra-fast internet service to over 50,000 homes and businesses in Singapore and has built a large customer base over the last 5 years.
Author:
EnjoyCompare
Provider Details
Being a relatively new telco in Singapore, MyRepublic's network is well designed and they do not limit speeds ensuring seamless video streaming. They offer some great content from the web and allow fast Internet access to multiple devices in the house.  The network is designed to provide fast downloads and the ability to share and sync data quickly.  MyRepublic offers competitive IDD rates and free unlimited local calls on the home line.
Detailed Description
Some additional benefits include:
The ability to keep your existing home number if you move
Video Streaming allows you to watch TV shows and movies from around the world
Have the flexibility to get a new router with discounts up to $400
Safeguard all your devices with a free F-Secure internet 3-month trial plus up to 60% off F-Secure plans.