Maybank CreditAble
Maybank CreditAble
Maybank
Headline

Rate

9% p.a.

Benefits &

Privileges

2-year annual fee waiver

Loan

Period

Revolving line of credit

EnjoyCompare

Rating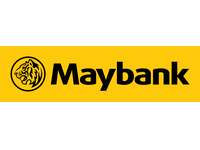 Credit line of up to 4x your monthly income
2-year annual fee waiver
Complimentary cheque book
Flexible repayments
Representative Example
$10,000
$315
%
3 years
$11,350
$1,350
Product Features
Financing amount (min to max): Credit line of up to 4X your monthly income
Loan tenure (min to max): Revolving line of credit
Interest rate: 

Fixed rate of

 9

% – 19.8

% 

per annum

Approval duration: 

Up to 7 business days
Maybank CreditAble
Personal Loan Review
The introductory rate of 9% for the first year makes this an attractive loan. But after the first year that interest rate increases to 19.8%. However what they do offer is whole host of easy benefits such as a cheque book, quick approval process and a flexible repayment scheme.
Author:
EnjoyCompare
Lender Details
Maybank is one of the largest South East Asian banks and is a Qualifying Full Bank (QFB) in Singapore.
The bank has over 20 branches in Singapore help to meet the banking and financial needs of corporations and individuals alike. It's global presence extends to Hong Kong, London and China. Within Singapore, Maybank collaborates in local community activities, and has received service awards in various categories.
Detailed Description
CreditAble is a personal credit line that puts extra cash in your hands when you most need it. Enjoy the ease and convenience of accessing your personal credit line via your chequebook or ATM Card.
Eligibility requirements:
Singapore Citizens, Singapore Permanent Residents
Age from 21 to 65 years of age
Have a minimum income of S$30,000 p.a.
Enjoy Compare is an independent information provider. It is not a bank or financial services provider, and cannot give direct financial advice.
The content of the comparison website provided by enjoy compare is provided "as is" for general information purposes only. It does not constitute advice nor does any part of the content constitute an open offer capable of forming the basis of a contract. It is up to the user to ensure information is accurate at the point of submitting an application on the suppliers website.