You received a call from your boss on Sunday afternoon requiring you to make an urgent business trip to London that night. The call disrupted your precious family time while having a picnic with your wife and your 4-year old toddler. Well, what can you do about it? It's all part of your life now, having chosen to work in a rewarding career which earns you a comfortable salary, providing more than enough for you and your family.
You log on to the Singapore Airlines website on your mobile phone to book your air ticket for tonight. And then you realise… things are not as bad as you thought. You get to earn 2 KrisFlyer miles for every $1.20 spent on your air ticket.. "that's easily more than 8000 KrisFlyer miles" after making a quick calculation.
After checking in at the Changi Airport, you go straight to the SATS Premier lounge, seat yourself down and look at your watch.  "I'm two and a half hours ahead of time, great," you thought. You are always ahead of yourself, making sure you do not rush. You ask for a glass of red wine to relax while setting up your laptop to prepare your meeting agenda with your clients. You focus diligently on your work, eyeing that massage chair and your favourite golf magazine on the rack as a reward.
With a card like the Singapore Airlines KrisFlyer Ascend AMEX Credit Card , you easily remember how it makes life a little more comfortable when travelling with the right card.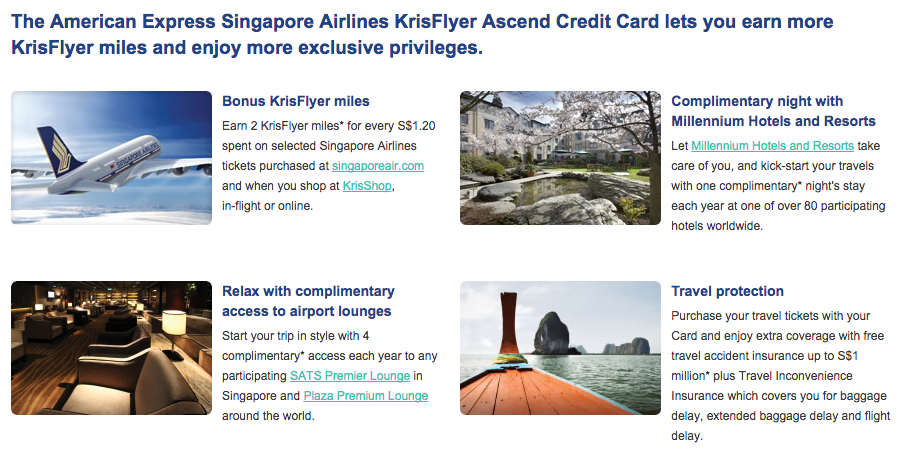 Other than making it the most convenient card for the jet-setter to earn miles with no conversion charges and fees, the monthly miles accelerator gives you a bonus of 300 miles for every additional $500 charges after your initial $1000 spending. By spending $5000 on a business class air ticket, you already earn a total of 10,733 KrisFlyer miles. Such is the added privilege that choosing the best card for the frequent flyer will bring you– a free trip for your holiday in future!
Do not forget as well that other than practicality, the credit card you own is a symbol of prestige as well. Not every card gains you an access to the SATS Premier Lounge. With the KrisFlyer Ascend card, you get four complimentary lounge access vouchers a year for you to travel in the most comfortable manner you deserve.
Besides topping the charts for one of the best sign up bonus for travel credit cards, one of the greatest extras with this card is a complimentary night with Millennium Hotels and Resorts each year. Reward your family while on your holidays — stay a free night at the Millennium Hotel Queenstown for your long-awaited holiday in the picturesque New Zealand, or the Millennium Hotel Paris Opera on a romantic trip with your wife.
With a first year fee waiver, bonus sign up points and all the travel prestige you can gain from the card, what are you waiting for?