LOOKING FOR SOMETHING ELSE?
We're finding you the right Credit Card.
What Makes a Great Credit Card?
Want to find the best credit card in Singapore? With EnjoyCompare, you can easily compare and apply for the best cards in Singapore – all in one place. Our comparison service can provide you with all the information you need to compare travel, Miles and Reward cards, allowing you to make an informed comparison.
With EnjoyCompare, you can easily filter your results in order to find the best credit card without any fuss. Search by card brand, card type, or both. Our easy-to-use comparison engine can help you navigate through a selection of cards, providing you with all the information you need to find the right card seamlessly.
Best Credit Cards
HSBC Advance Card.
Citi PremierMiles Card.
OCBC 365 Card.
Standard Chartered Unlimited Card.
Citi Rewards Card.
We base the above choice of credit cards on a number of factors including, Sign-up welcome gift, spend to miles ratio, cash back percentage and cash back monthly or quarterly caps and the eligibility requirements of each credit card.
Credit Card Comparison
We compare the majority of credit cards in Singapore, including some fo the best credit card brands; American Express, Citibank, HSBC, Standard Chartered and more. Our comparison tool provides information on annual fee, fee waiver and key card features.
To help you find the best credit card deal, our credit card rating is designed to help you choose the right credit card quickly and easily. In addition to this, we offer a featured deal which draws on the best promotion and exclusive rewards available in Singapore. So if you're looking for the best cashback or the best Miles card, then EnjoyCompare can help.
Frequently Asked Questions
You can find a guide to Singapore credit card here
How do credit cards work? A credit card is effectively a short-term loan on any purchases made. Therefore you will get a bill at the end of the month, which you can either pay in full or allow the debt to roll over and you pay a relatively high interest on your outstanding debt.
Which is the best credit card? There is a range of different credit cards, including cash back card, travel cards, rewards card and more. All of these credit cards offer credit on your purchases, but each comes with a different financial or promotional benefits. The best credit card is unique to your needs and natural spending patterns. However, a credit card that comes with an annual fee waiver, low monthly interest and a promotional benefit that suits your needs is usually a good pick. We recommend shortlisting a few credit cards then read the fine print.
Do all cards come with a fee waiver? The majority of credit cards in Singapore offer a fee waiver. However, this is usually offered in exchange for the promotional gift.
What is the cost of having a credit card? There are many costs associated with a credit card and when borrowing money, including late fee payments annual fees and monthly interest payments on your purchases. However, if you pay off your outstanding debt each month and select a card with an annual fee waiver, then you can maintain a credit card with no annual costs.
How do I apply for a credit card? Apply for a credit card is relatively straightforward, simply complete an application online or in a bank branch and submit the required documents and proof of income, age and address. Then wait to see if you have been accepted and what credit level you have been given (typically $500 to $25,000 a month).
What is the best credit card Singapore? The best credit card Singapore depends on the type of credit card you want and the rewards you wish to collect. A cashback card is great for providing rebate across all spends or across particular categories of spending i.e. Travel. Whereas a Travel credit card offers AirMiles in return for every dollar spent. The HSBC Advance Card, Citi PremierMiles Card and the Citi Rewards Card are a good starting point.
Credit Card Fees
Credit cards come with a lot of fine-print and associated fees. It is very important to understand that when using a credit card, you are effectively borrowing money on a short-term basis and this credit system comes at a cost. Therefore it's important to manage your finance effectively and seek help if you are struggling to meet your financial obligations.
Balance Transfer Fee is a charge for moving an outstanding balance from one credit card to another. The fee is usually a percentage ( 3%) of the total outstanding debt or a minimum fee of $10, whichever is greater.
Annual Fee is a yearly charge for having access to a credit card and its credit facility. This is usually in the range of $80 to $400 a year.
Cash Advance Fee is a charge for taking cash or similar transaction from an ATM and is usually 5% of the amount of the advance or $10, whichever is greater.
Foreign Transaction Fee is a charge when you make a transaction in a foreign currency. Most credit cards don't charge a foreign transaction fee, but those that do, typically charge 3% of the transaction amount.
Credit Card Interest Rate is the monthly rate on the cost of borrowing, usually an Effective Rate of 25.9% per annum (minimum)
No annual fee credit cards
If you're looking for a credit card with no annual fee, then your options are very limited and even the cards that do offer a no-fee service, offer limited features and financial incentives. It's therefore, recommended to apply for a for a credit card that offers a fee waiver, that way you get the best of both worlds.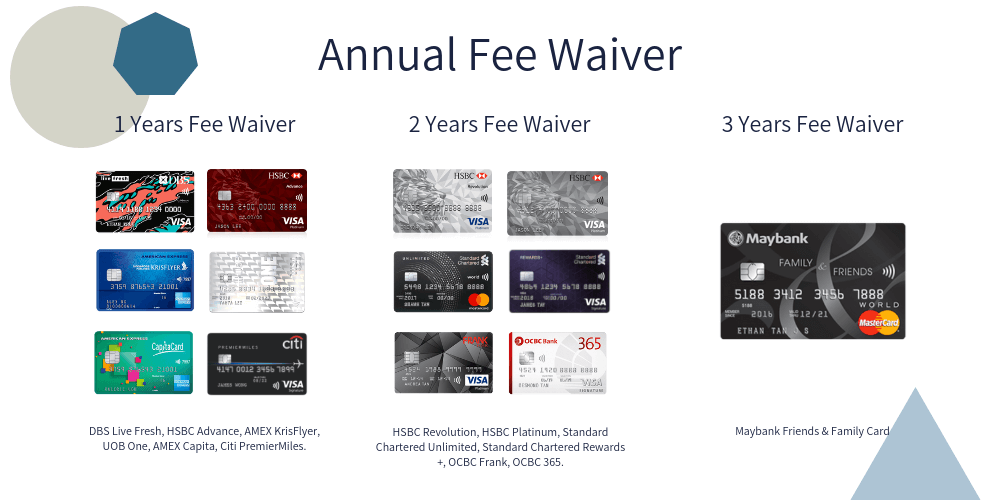 Credit Card Singapore
Finding the best credit card in Singapore can be hard, as each credit card provider offers different promotional offers and financial incentives. What's more, each credit card has slightly different fees, charges and financial costs that can greatly affect the cost of borrowing. It's important to shortlist the right credit cards that match your natural spending habits, then read the fine print to understand the financial cost of borrowing when using the credit card to make purchases locally and abroad.
How do credit cards work?
Credit cards in Singapore can be a quick and easy way to borrow money to pay for things. Let's say you are shopping and spot a must-have handbag. You have no physical cash to hand, but it doesn't matter. You can simply pay with your Singapore credit card. Or maybe you need a new TV or computer, but it's still a long way to payday. Don't worry! You can put the purchase on a credit card.
You start by giving some information about yourself to the banking provider, and they use this to find your credit score. The banking provider will then match your credit file to the credit card criteria, and they then use this show how likely you are to be accepted for each card. Don't worry, the banks don't leave a footprint on your credit file, so your credit score won't be affected.
Credit Card Types
Selecting the best credit cards is complex and there are literally hundreds of different credit cards in Singapore, with most credit cards being offered from a handful of providers, including VISA, MasterCard and American Express. The most popular types of credit cards in Singapore are Cash Back cards and Miles cards (also known as travel credit cards), these make up the majority of credit cards issued and are popular due to the rewards offered for every dollar spent. However, There are over five common credit card types in Singapore as follows.
Cash back credit cards offer a rebate or credit on your next month's statement, derived from a percentage of the total spend on your card over a given period (usually a month).
Miles credit cards offer reward miles that can be exchanged for airline frequent flyer miles, derived from the total spend on your card over a given period e.g. 1 air mile for every $1 spent.
Rewards credit cards offer reward points derived from the total spend on your card over a given period e.g. 1 reward point for every $1 spent.
Student credit cards offer basic credit services to students that usually have limited or no income and a low credit score.
Business credit cards offer credit services to employees of a business and the borrowed amount is usually the responsibility of business.
Credit Card Providers
It's sometimes confusing when you see so many brands, logos and providers surrounding credit cards in Singapore. From VISA, MasterCard, HSBC to Citibank. Well here is the background and insight into how these brands work together.
Providers – VISA, MasterCard and American Express are credit card providers, they provide the infrastructure, payment terminals and POS (point of sale) network, along with the physical credit cards to each of the banks or financial institutions. The only exception to this is American Express, who also offer their cards directly to the consumer.
Financial Institutions – HSBC, Citibank, Standard Chartered, UOB and all other banks, are the financial institutions that package up these credit cards and offer them to their customers. Most of the time the banks will add additional features to entice and validate the annual fees, including free travel insurance or merchant rewards.