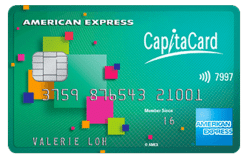 Apply today and enjoy Earn 3x STAR$® Read More
American Express
Fee waived for the first year.
Earn 5 STAR$® for every S$1 spent on eligible purchases.
Earn 3X STAR$® when you spend in CapitaLand Malls.
Enjoy Complimentary 3-hour parking.
Spend S$1,500 within 3 months of Card approval and receive S$60 CapitaVoucher.
Receive an American Tourister Erie 67/24 Luggage (worth S$200) when you spend S$1,500 within the first 3 months.
Apply Now
Visit Site
Credit Card Review
Detailed Description
Eligibility
Credit Card Review
American Express CapitaCard
With the AMEX CapitaCard you earn 15 STAR$® for every S$1 spend and a further additional 10 STAR$® will be awarded on eligible purchases at participating merchants across participating CapitaLand Malls, on a cumulative basis at the end of every calendar month, capped at S$1,200 per calendar month at participating merchants in participating CapitaLand Malls. Finally, you will receive 1X STAR$® when you spend outside CapitaLand Malls, so with every S$1 that you spend on eligible purchases, you earn 5 STAR$®.
All STAR$® earned with the American Express CapitaCard are credited directly into your CapitaStar account and you can redeem your points for CapitaVoucher in the following denominations:
5,000 STAR$® – S$5 CapitaVoucher
10,000 STAR$® – S$10 CapitaVoucher
50,000 STAR$® – S$50 CapitaVoucher
Complimentary Parking
Enjoy 3-hour complimentary parking in the 15 CapitaLand Malls when you spend S$1,200 in a calendar month.  If you spend more than S$1,800 per calendar month, you can park in Privileged Parking lots.
Detailed Description
Spend Bonus
Spend Bonus: Spend S$1,500 on eligible purchases of goods or services within the first 3 months upon Card approval ("Spend Threshold") and receive 60,000 Bonus STAR$®.
The Spend Bonus offer is applicable to all applicants of The American Express CapitaCard who receive approval from 1 Jan 2019, up to and including 31 March 2019 ("Promotion Period"). Card Members are only entitled to receive each offer once. Card Members who cancelled their American Express CapitaCard within the last six (6) months are not eligible for this promotion when they re-apply for The American Express CapitaCard during the Promotion Period.
The eligible spend excludes: (a) Charges that are processed and billed prior to your CapitaStar Member enrolment date or charges that are prepaid on any Card Account prior to the first billing statement for that Card Account following the Enrolment Date;(b) Cash Advances and other cash services;(c) Express Cash;(d) American Express Travellers Cheque purchases;(e) Charges for dishonoured cheques;(f) Finance charges including Line of Credit charges and Credit Card interest charges;(g) Late Payment and collection charges;(h) Tax refunds from overseas purchases;(i) Balance Transfers;(j) Annual Card fees;(k) Other credits to your Account; and (l) CapitaVoucher purchases.
The Bonus STAR$® will be awarded to Card Members within approximately 6 weeks from the date they meet the Spend Threshold. The Bonus STAR$® will be credited directly into the CapitaStar account linked to your American Express CapitaCard. Spend on eligible purchases incurred by Supplementary Card Member(s) shall accrue to the Basic Card Member. To qualify for this offer, your Card Account must be in good standing and not be cancelled for any reason.
Best American Express Credit Cards
Still not sure which American Express credit card to get? Then why not compare all the best American Express credit cards here at EnjoyCompare.
Eligibility
ELIGIBILITY REQUIREMENTS
You're over 21 years of age. Supplementary Card applicant should be over 18 years of age.
For Singapore Citizens and Residents, you have earnings which provide an income of over S$30,000 p.a.
For Expatriates, you have earnings which provide a minimum income of over S$60,000 p.a.
ANNUAL CARD FEES
Annual Fee of S$171.20 waived for the first year
First 2 Supplementary Card(s) fee permanently waived.
Annual Supplementary Card Membership Fee: S$85.60 (inclusive of GST)
EnjoyCompare is an independent information provider. It is not a bank or financial services provider, and cannot give direct financial advice. The content of the comparison website provided by EnjoyCompare is provided "as is" for general information purposes only. It does not constitute advice nor does any part of the content constitute an open offer capable of forming the basis of a contract. It is up to the user to ensure information is accurate at the point of submitting an application on the supplier's website.