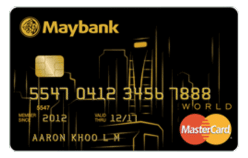 Apply today and enjoy Samsonite Orfeo Luggage Read More
Maybank
Winner of 'Best Golf Card' in Her World Nuyou Credit Card Awards 2017 in 3 consecutive years.
Enjoy complimentary green fees at 86 world-class fairways across 18 countries.
Enjoy exclusive 4Play 3Pay Package and return-ferry rebate promotions at The Els Club Malaysia.
10X TREATS Points (or 4 air miles) with every dollar spent at preferred dining, retail and all petrol stations islandwide.
Exclusive 19.1% savings on petrol & Complimentary VIP access to the private terminal JetQuay in Singapore.
Receive a complimentary Samsonite Orfeo 69cm Spinner upon charging S$700 to your new Card within the first two months of approval.
Rewards
Samsonite Orfeo Luggage
Apply Now
Visit Site
Credit Card Review
Detailed Description
Eligibility
Credit Card Review
Maybank World Mastercard
Designed for someone who enjoys a round of golf, the Maybank World Mastercard is the perfect golf credit card and good for all-around day-to-day transactions. Cardholders enjoy 10X TREATS Points (or 4 air miles) for every S$1 spent at the most desirable dining establishments, boutiques and all petrol stations in Singapore and TREATS Points never expire.
The Maybank card comes with a 15% discount with the Corporate Fuel Card, plus 10X TREATS Points on your Maybank World Mastercard and 10X TREATS Points can be redeemed for a further 4.85% savings with cash credits on your Corporate Fuel Card.
Principal Cardmembers enjoy complimentary green fees* at participating golf clubs from around the region. So why not tee-off at some of the world's finest clubs from 79 participating golf clubs in 15 countries exclusively with your Maybank World Mastercard and Visa Infinite Card.
Golf Privileges Include :
Complimentary Green Fees* for Principal Cardmembers with a minimum spend of S$1,000 in the previous calendar month.
Cardmember's guests enjoy 10% savings on walk-in rates.
No paying guest required for golf clubs located in Singapore, Malaysia, Indonesia and the Philippines.
Bookings are subject to availability on a first-come-first-served basis.
*Limited to 2 flights a month per Cardmember. Flights are subject to availability on a first-come-first-served basis for both local and overseas clubs. All Cardmembers playing on the same flight are each required to meet the minimum spend of S$1,000 in the previous calendar month from the time of call-in, charged to the respective Maybank World Mastercard or Visa Infinite Card, in order to enjoy complimentary green fees.
Experience Golfing Paradise at The Els Club, Malaysia
The Els Club Malaysia offers an unparalleled golf experience at two unique destinations. Situated at the island of Langkawi is home to the Rainforest Course in Teluk Datai. Desaru Coast, in Desaru, Johor, is home to Ocean Course and Valley Course. Prepare to have your senses and skills challenged at Ernie Els and Vijay Singh championship design courses.
Detailed Description
Maybank World Mastercard General Terms and Conditions for 10X TREATS Points
To qualify for the 10x TREATS Points, cardholders must ensure all payments are made with a Maybank World Mastercard.
The selected ­10X TREATS Points merchants are valid till 31 December 2017, unless otherwise stated and TREATS Points at the selected merchants will automatically be awarded to the eligible Cardmember's account if the designated merchant's outlet, where the required transaction is made, is on record with Maybank.
10X TREATS Points are awarded for each dollar spent at the selected merchants, which is equivalent to a conversion rate of 4 air miles for every S$1 spent.
TREATS Points will not be awarded to any transactions that Maybank deem to be corporate/commercial transactions.
For the online buyers, its important to remember that The 10X TREATS Points will not be awarded for any online transactions.
In the event a card transaction is cancelled or reversed by any party for any reason, Maybank shall reverse all TREATS Points awarded for that card transaction.
Eligibility
Applicants for the Maybank World Credit Card must meet the following criteria to apply and be accepted
Eligibility
Be at least 21 years of age
Have a minimum annual income of S$80,000
Required documents
For Fully Salaried / Salary with Commission
A photocopy of your NRIC (front and back) AND Latest  computerised payslip OR Latest Income Tax Notice of Assessment** AND Latest computerised payslip
For Self-Employed / Fully Commissioned / Freelance and Part-time
A photocopy of your NRIC (front and back) AND Latest 2 years' Income Tax Notice of Assessment**
In addition, for Foreigners, please submit
Valid Passport AND Employment Pass (with at least 6 months' validity) AND Utilities bill or bank statements with residential address AND Company letter stating proof of employment of at least 1 year