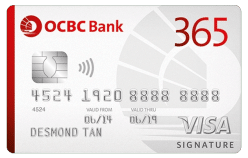 Apply today and enjoy Cashback on all your daily spends Read More
OCBC
Up to 23.9% savings at selected petrol stations.
6% cashback weekend dining in Singapore.
3% cashback on all online transactions and supermarkets.
3% cashback on monthly telcom bills.
Enjoy complimentary travel insurance of up to $200,000.
Apply today for cashback on all your daily spend all year round!
Rewards
Cashback on all your daily spends
Apply Now
Visit Site
Request Callback
Credit Card Review
Detailed Description
Eligibility
Credit Card Review
Is this another rebates card in the market? Yes, but there's always a winning selling point for each of them. For the OCBC 365 Card, the benefit that takes the cake is its 6% rebates on weekend dining. Below is a summary of its key rebates and benefits:


The dining cashback is a really great deal for those of us who loves to relax over a good meal over the weekend, while weekday eats still enjoy a 3% rebate. What's more, the dining cashback is applicable to all food outlets including fastfood and caterers. Perfect savings for the family meal on weekends! For drivers, the card also provides fuel savings of up to 23.9% at selected petrol stations.
The main catch of the card? A minimum spend of $600 per month, which we think is pretty fair considering most other rebates card in the market has similar requirements as well. The card caps its rebates at $80 a month, which still comes up to a substantial $960 a year. Another redeeming factor is that even if you spend less than $600, a flat 0.3% cashback is awarded.
Detailed Description
Travel Insurance:  To qualify for the S$200,000 complimentary Travel Personal Accident Insurance and up to S$400 coverage for Baggage Loss (more than 48 hours). then just pay using your OCBC 365 card to pay for your return air tickets.
Concierge – The Visa Signature Concierge is available 24 hours a day, 7 days a week to help you. Assistance includes Trip Planning Assistance, Hotel Reservations, Flight Reservations, Restaurant Reservations, Car Rental, Performance Tickets booking as well as Other Requests. It is manned by professionals. For your convenience, all major Asian languages are supported.
Visa Luxury Hotels: Enjoy unsurpassed value at nearly 1000 intriguing and prestigious properties around the world with your OCBC Visa 365 credit card.
Best OCBC Credit Cards
Still not sure which OCBC credit card to get? Then why not compare all the best OCBC credit cards here at EnjoyCompare.
Eligibility
You have to be 21 years old and above
Annual income:
S$30,000 and above for Singaporeans and Singapore PRs
S$45,000 and above for foreigners
EnjoyCompare is an independent information provider. It is not a bank or financial services provider, and cannot give direct financial advice.
The content of the comparison website provided by EnjoyCompare is provided "as is" for general information purposes only. It does not constitute advice nor does any part of the content constitute an open offer capable of forming the basis of a contract. It is up to the user to ensure information is accurate at the point of submitting an application on the suppliers website.