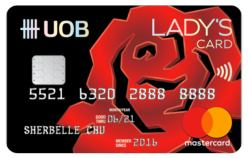 Apply today and enjoy Men Don't Get It! Read More
UOB
5X UNI$ on your shopping and taxi rides
UOB Lady's LuxePay Plan: 6 or 12-month instalment payment plan with no interest or processing fees
Complimentary weekend parking at [email protected], Forum the Shopping Mall, Paragon and Scotts Square
Complimentary e-commerce protection for your online purchases up to USD200
Up to 10% SMART$ rebate at over 400 participating merchant outlets
Get up to S$80 cash credit when you apply online for UOB Lady's Card.
Rewards
Men Don't Get It!
Apply Now
Visit Site
Credit Card Review
Detailed Description
Eligibility
Credit Card Review
UOB Lady's Card is one of few credit cards in Singapore designed specifically for ladies.
This card will definitely appeal to most ladies like you in Singapore, with all the specially curated benefits to ensure you look and feel great inside. You get to enjoy interest-free with no processing fee instalment payment plan on your luxury goods, e-commerce protection for your online purchases and up to 10% SMART$ at over 400 participating merchant outlets. Plus, bundle with One Account, to help you earn bonus interest on your savings to meet your financial needs and goals.
Lady's Cardmembers also enjoy accelerated rewards points on shopping and taxi rides. When traveling overseas or making online transactions in foreign currencies, you earn 5X UNI$ when you spend at fashion shops. Shopping in Paris, Tokyo or anywhere overseas rarely gets more rewarding than that. Plus, treat yourself to a cab ride home after hitting the shop and enjoy 5X UNI$ too.
Detailed Description
Transport Fare Discount:
UOB Lady's card come with a 50% off transport fares when you apply online, including 50% off Bus, MRT and Taxi rides. This offer is eligible as a "Cash Rebate" of 50% off all Transport Transactions incurred during Qualifying Period but capped at S$30.00. Cardholders must have a minimum spend of $600 worth of Eligible Transactions.
Eligibility
For Singapore Citizens and Permanent Residents: Female and above 21 years old, and a minimum annual income of S$30,000 is required
For Foreigners: Female and above 21 years old, and a minimum annual income of S$40,000 is required
Principal Credit Card: S$192.60* per annum, with the first year card fee waiver
Supplementary Credit Card: Free for the first card, with a charge of S$96.30* for subsequent cards
* Inclusive of Singapore's prevailing Goods and Services Tax (GST).
RequirementFor Singapore Citizens and Permanent Residents