Standard Chartered Rewards Plus Credit Card
Standard Chartered Rewards Plus Credit Card
Standard Chartered
Rewards

10X rewards points with every S$1 spent

Annual Fee

$192.60

Fee Waiver

Yes

EnjoyCompare

Rating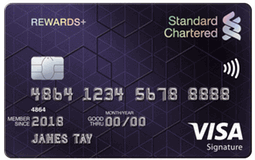 Enjoy up to 10X rewards points for every S$1 spent in foreign currency on overseas retail, dining and travel transactions.
Enjoy up to 5X rewards points for every S$1 spent on dining transactions.
Enjoy 1 rewards point for every S$1 spent, on all eligible spend.
Enjoy up to 50% off à la carte dining at The Fullerton Hotel and The Fullerton Bay Hotel Singapore.
Be the first 500 to sign up for the Rewards+ Credit Card and redeem a 30-inch American Tourister Luggage Bag worth $210.
No minimum monthly or quarterly spend required, just good old rewards points!
Apply now to get up to $100 cashback. Plus, additional $10 cashback when you apply online with MyInfo – Read More
Standard Chartered Rewards Plus Credit Card
Credit Card Review

Standard Chartered Rewards Plus Card
If you're looking for the latest reward card to hit the Singapore market, then the Standard Chartered Rewards+ credit card is the latest and greatest. With a standard 1 rewards point for every S$1 spent, on all eligible spend, with no minimum spend required and no reward caps, you can be confident that you are being rewarded for every dollar spent (regardless of the spend category I.e. travel).
Whats more new cardholders enjoy 10x rewards points on every $1 spend overseas, on retail, dining and travel transaction. Along with 5x rewards points for every $1 spent on dining transaction here at home. However the additional reward points you receive on dining and international spends is capped to 20,000 points a year.
Standard Chartered Rewards Card
Contactless Payment
The Standard Chartered Rewards+ Card comes fully loaded with the latest technology, so you can tap and go with contactless payment. That means you can use the Standard Charted PayNow service, Apply Pay, Samsung Pay, Google Pay and Visa Checkout, whats more No signature is required for payments under $100.
Card Safe Guarantee
With the Standard Chartered Rewards card you can enjoy peace of mind with the card safe guarantee. So when you shop online with your Standard Chartered Credit Card, you won't be liable for any unauthorised online transaction. Just make sure to Inform Standard Chartered of any unauthorised online transactions made on your credit card immediately upon discovery, and within 14 days from the date of your statement of account.
Author:
EnjoyCompare
Detailed Description
Standard Chartered Finance Charges:
The Effective Interest Rate ("EIR") for the Standard Chartered Rewards+ Card is 25.9% per annum (minimum). However If payment is not made in full by the due date, finance charges will be calculated on a daily basis of 0.071% from the respective transaction dates for all transactions to the date the payment is received.
Standard Chartered Cash Advance:
The cost of taking a cash advance is expensive and alternative financial arrangements might prove a better option. However your cash advance fee per transaction is 6% on the Cash Advance, subject to a minimum fee of $15 plus Finance Charges at 0.077% per day on the amount withdrawn from the date of the transaction until the date of full payment.
Late Payment Charges:
If for whatever reason you find yourself paying late payment chargers, a late payment charge of S$80 will be charged if minimum payment due is not received by the due date. The EIR applicable on your credit card and funds transfer account(s) will be adjusted to 28% per annum if the minimum payment due is not received by the due date). If you have only missed one payment, it will be reinstated to the prevailing EIR once minimum payment due is made in full. If however your account has been twice or more past due on a consecutive basis, the EIR will only revert to 25.9% once minimum payment due for the relevant consecutive months where your account was past due is made in full.
Eligibility
You must be aged 21 to 65 years old
Minimum Annual Income of 
Singapore Citizens and Permanent Residents: S$30,000
Foreigners with Employment Passes: S$60,000
Employment Pass Holders
Foreigners must be holders of P1, P2 or Q type Singapore Employment Passes
Q Pass holders must have minimum one year validity remaining on their passes
You will need:
Copy of NRIC/Passport/Employment Pass (front and back)
For salaried (any of the following):
Latest month computerised payslip
Latest 6 months CPF Contribution History Statement
Latest Income Tax Notice of Assessment + latest month computerised payslip/6 months CPF contribution
For self-employed
Copy of latest income tax notice of assessment (must be in business for a minimum of 2 years)
For commission earner (any one from below)
Latest 3 months payslip + Latest income tax notice of assessment
Latest 6 months CPF contribution history statement
Latest 3 months payslip
Copy of latest income tax notice of assessment ( For 100% commission earner)