Standard Chartered SingPost Spree Credit Card
Standard Chartered SingPost Spree Credit Card
Standard Chartered
Rewards

Up To 3% cashback

Annual Fee

S$192.60

Fee Waiver

Yes

EnjoyCompare

Rating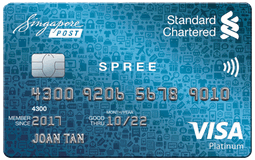 Enjoy up to S$60 cashback monthly, with no minimum spend
3% cashback on online transactions in foreign currency and vPost transactions
2% cashback on all other online spends in local currency, including contactless and mobile payments.
1% cashback on all eligible retail purchases
Enjoy an Online Price Guarantee which refunds you 50% of the price difference if you find a lower price of the same item within 30 days
Apply for the Standard Chartered SingPost Spree Card and receive up to S$138 cashback  – Read More
Standard Chartered SingPost Spree Credit Card
Credit Card Review

Standard Chartered Spree Card
The newly launched Spree card is an updated version of the original Standard Chartered SingPost card, this card is specifically focused on cardholders that predominantly spend online. The new Spree Card offers up to S$60 cashback a month, with no minimum spend, which is one of the highest monthly caps of any card in Singapore.
Cashback and Rebates
Standard Chartered Spree cardholders enjoy 3% cashback on online transactions in foreign currency and vPost transactions, with 2% cashback in all other online spends in local currency and for all your retail purchases you still earn 1% cashback. So its should be easy to reach that S$60 cap, rebating you an impressive S$720 on your annual spending. However AXS, ATM, tax payments and mot forms of top-up or payment to funds prepaid cards using the SingPost Spree Card are not eligible for cashback.
Credit Card Price Guarantee
Have you bought an item online, only to find it discounted a few days later! Well with the Standard Chartered Spree card you are protected, with a refund of 50% of the price difference if you find a lower price for the same item within 30 days.
So sign up and apply for the Spree Credit Card and Standard Chartered will help make every checkout a little less guilty.
Author:
EnjoyCompare
Detailed Description
Best Standard Chartered Card
Still not sure which Standard Chartered credit card to get? Then why not compare all the best Standard Chartered cards, here on EnjoyCompare Singapore.
Eligibility
Applicants much meet the following criteria.
Age: 21 to 65 year of age
Minimum annual income: 
Singaporean citizen and permanent resident: S$30,000
Foreigners and employment pass holders: S$60,000
Employment Pass Holders:
Foreigners must be holders of P1, P2 and Q Singapore Employment Passes
Q Pass holders must have a minimum one year validity remaining on their passes