LOOKING FOR SOMETHING ELSE?
We're finding you the right travel insurance deals.
Travel Insurance
Are you looking for simple and jargon-free travel insurance quotes, do you want to find the best travel insurance promotions. Here at EnjoyCompare, we do the hard work, so you don't have to.
We make finding the best insurance promotions easy and hassle-free. We search for the latest promotions, offers and handpick the best travel insurance deals, allowing you to view and choose insurance cover that suits the requirements of your holiday. Whether you need single or multi-trip cover, winter or water sports cover, we make it easy for customers to see what each cover provides, ensuring that you are fully covered when travelling.
To make choosing the right promotion even easier, we sort our insurance quotes into five categories, allowing you to see at a quick glance which cover is most suitable for your trip.
Premiums
Benefits & Privileges
Single or Multi-trips
Medical Expenses Cover
Best Travel Insurance in Singapore 2019
Travel Insurance Singapore
What is Travel Insurance? Travel insurance is a policy that protects you in case of any mishaps that might happen while you are travelling in Singapore or abroad. Travel insurance helps you financially if anything goes wrong on your holiday, which includes common mishaps like if your accommodation is cancelled, your flights are delayed or your baggage is damaged. If you're interested to know more about travel insurance in Singapore and have more questions, then check our travel insurance frequently asked questions guide.
Types of Travel Insurance
There are a few types of travel insurance that is commonly available for you to purchase online or direct from an insurance provider.
Single Trip – Single trip insurance is ideal for people who don't travel regularly and only require cover for one trip defined trip. In most cases, travel insurance providers require your trip to last less than 30daysy, unless you have prior agreement.
Annual Multi Trip – Annual multi-trip insurance is for people who plan to travel more than once in a year and to multiple different locations. Most insurance packages will ask you to define your area of travel i.e. South East Asia or Europe, as some destinations add on a premium i.e. The United States of American. In most cases, the travel insurance provider will request that each trip must not last more than 30 days, or your insurance will not be valid.
Family Package – It's possible to get a single trip and annual multi-trip travel insurance for you or your entire family.
BackPacker – If you plan to travel to multiple destinations, with each trip lasting more than 30 days, then backpacker travel insurance is perfect for you. With low premiums and some limitations to the countries, you can visit, its perfect for gap year students or people who wish to explore.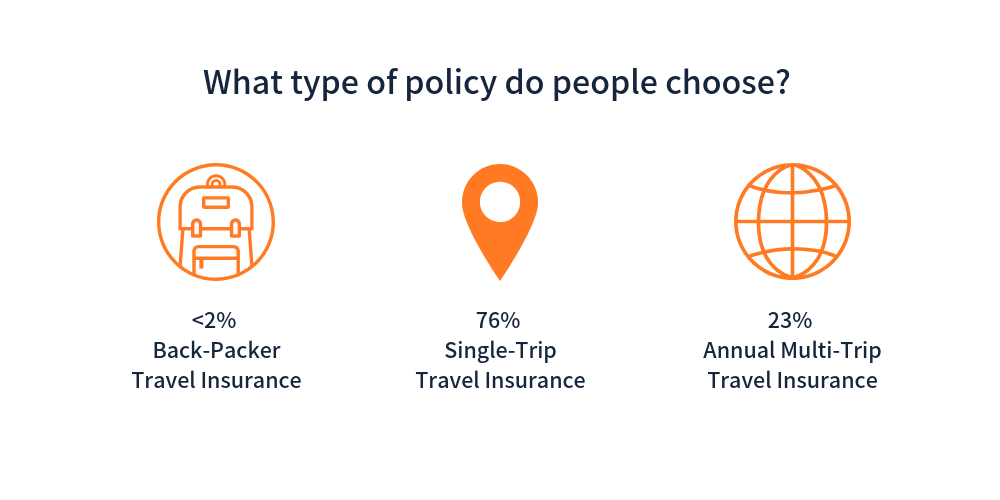 What does Travel Insurance cover?
Travel insurance policies can differ dramatically and in most cases, you get what you pay for. A relatively cheaper policy might give you limited coverage across different categories, but also limited payout across the categories if something goes wrong.
Travel Delays – If your flight, ferry, train or car is delayed over a specified period, then you might be entitled to a financial payment. What's more, you might have other elements of the delay covered, including hotel costs and alternative travel arrangements.
Adventure Activites – If you plan of going skiing, scuba diving, climbing or any other adventures activities, then any claim resulting from these activities are usually not covered under general travel insurance. As such you will need to upgrade or add on a premium to ensure you are protected while doing these activities.
Medical Treatment – Travel Insurance will help with any medical expenses while on holiday or travelling for work. The total extent of the payout may be limited and expatriation or transport to a different hospital might not be covered, unless stated.
Gadget or Item Cover – In most cases, items over a designated value are not covered under your travel insurance i.e wedding ring, mobile phone or laptop. Therefore make sure to read the fine print and understand the value cap, or opt for specific travel insurance that includes higher valued items.
Baggage Protection – When travelling your baggage can get damaged, lost or even stolen. Travel insurance will cover you for any loss, up to a designated value.
Our very own personalised Travel Insurance Star Rating
Our unique 'featured deal' allows customers to view the most recent travel insurance cover that we believe offers customers real value for money. Hand-picked by our experts, our 'featured deals' are updated regularly, as soon as we find a better deal than the last.
At EnjoyCompare, we are committed to providing our customers with high-quality travel insurance cover at a low price. That's why we only ever use accredited providers. Our list of insurance providers includes AIG Direct, American Express, AMEX, Aviva, NTUC, Allianz Global Assistance, Citibank, Columbus, DBS and POSB. Purchasing travel insurance through Enjoy Compare gives customers the peace of mind that they are not only getting the best price but that they are also buying through an approved provider.