Optimise Your Amex Card With Apple Pay
Now, there's another reason to love Apple products – the official launch of Apply Pay in Singapore.
Earlier this week, media got into a frenzy with the announcement that Apply Pay is now available in Singapore; but there's a catch – you'd need an American Express (AMEX) card in order to use it.
For the uninitiated, Apple Pay is a mobile payment and digital wallet service that allows users to link their AMEX card to the Apple Wallet App, after which you can simply tap your phone on the contactless reader at the cashier with your finger on the Touch ID and viola, your payment is made.
Singaporeans are perhaps not new to contactless payments – we already have our EZ-link cards that work with just a flash of our cards at the MRT gantry. We've also heard of the Visa Paywave, as well as the Mastercard Paypass. However, the main differentiating factor is that with the Apple Pay that's linked to your AMEX card, you don't even need to reach for your wallet to pay anymore.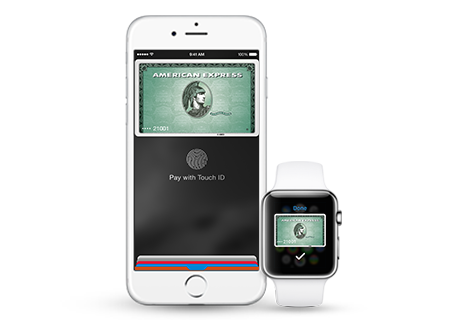 Look around you and you'd see how "addicted" Singaporeans are to our phones. With this payment system, you can simply tap your phone(which is already in your hand most of the time) to pay for your daily spend, such as paying for your groceries at FairPrice or your morning latte at Starbucks. Even if you've forgotten to bring your wallet out for the day, you can still survive a day at the office with your coffee without having to borrow money from your colleague.
One key advantage of Apple Pay is that it actually helps you to optimise the usage of your AMEX cards. For instance, most people may only pay with their credit cards for more expensive items and prefer to pay cash for your daily spend on food and drinks. But with this option, you can use your AMEX with the participating merchants, which also means that the spend will count towards the accumulation of air miles or reward points for your AMEX credit cards.
There are usually safety concerns when it comes to digital wallets, but the way Apple Pay works can allay your fears if you lose your phone. For instance, your card details are not stored on the phone or on Apple's servers, but each card is given a unique device account number instead. Each transaction is then authorised with a one-time unique security code. If you want to make it even safer, choose the "Touch ID" option which uses a unique fingerprint technology to complete your transaction. In this way, no one can have access to using your card for payment except you!
To make the most of your AMEX card with Apple Pay, remember to download the AMEX Mobile App as well. This allows you to check your transaction information, keep track of all charges and allows you to view up to 6 months of previous transactions.
For more information on using your AMEX card with Apple Pay, you can refer to this link.