Best Travel Credit Cards
For those who love to take holidays or travel frequently for work, an air miles credit card is perhaps one of the best types of cards you can use since they reward you with 'miles' when you spend. Such 'miles' are like points which you can accumulate and later use it to convert to free flight upgrades or even free trips!
Most of such cards also give you a host of other travel-related benefits, such as access to exclusive airport lounges, discounts with car rentals overseas and free travel insurance. While the benefits may all sound quite similar for the different travel credit cards issued by different banks, they can differ in the way the miles are accumulated, how they are redeemed and special ways to earn miles at a faster rate.
You can find our complete list of all AirMiles Cards on our main comparison page, otherwise here is our  shortlisted of the top 3 travel credit cards from the wide range of cards available here in Singapore:
Citi PremierMiles Visa Card
The Citi PremierMiles Visa Card is a great travel card for average consumers. It has a very good set of offers that includes great mile awards that do not expire and there's no minimum spend required on your end as well.
The card is great for travellers who travel with various airlines, since you will be able to use its flexible conversion system to redeem your points with a wide range of airlines and hotel properties, including Star Alliance, Skyteam, IHG rewards and Hilton HHonors points.
Citi PremierMiles Visa Card lets you earn up to 10 Citi Miles per $1 spent on travel bookings online, 2 Citi Miles per $1 spent in foreign currency, and 1.2 Citi Miles per $1 spent locally. There are a variety of options when it comes to redeeming your Citi Miles. Other than using them to redeem for travel on a participating frequent flyers programme, you can also redeem them for cash rebates if you prefer. 2,000 Citi Miles = $20 value. A minimum of 2,000 Citi Miles is required for rebate redemption. The downside is that you'd need to pay S$25 administration fee for each Frequent Flyers Programme redemption.
The card also provides complimentary access to airport VIP lounges twice annually, as well as travel accident coverage of up to $1,000,000 for the cardholder.
As a welcome offer for new Citi Credit cardmembers, you get a chance to earn up to 42,000 Citi Miles when you apply and charge your purchases to your Citi PremierMiles Visa Card. Here's how it works:
15,000 Miles earned when you apply and spend any amount on your card within the first 3 months
an extra 15,000 Miles when you spend a total of $10,000 within the first 3 months
another 12,000 Miles based on the regular miles earning rate of 1.2 miles earned per S$1 spent locally.
Earn up to 10 Citi Miles per S$1 spend on online travel bookings
Earn up to 2 Citi Miles per S$1 spend on overseas transactions
Earn Citi Miles that never expire!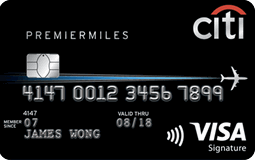 American Express KrisFlyer Credit Card
This card is a great card for those who aren't too particular about getting the most miles per dollar spent. This is because unlike other miles cards which require you to convert the points you've earned to miles, you can redeem it directly without any conversion or additional fees.
Miles wise, you get a great reward of 1.1 miles per S$1 spent locally, 2 miles per S$1 spent overseas or on singaporeair.com and silkair.com for your travel bookings. This means that for those who only prefer to fly exclusively with Singapore Airlines, this will be a great card for you to accumulate miles!
Their sign-up offers are awesome as well – you receive:
Welcome bonus – Receive 5,000 KrisFlyer miles the first time you charge your card
Receive 7,500 additional Krisflyer miles with $2,500 spend in first 3 months
Purchase MyVoyageGuard Travel Insurance at an introductory offer of $188
First Year Fee Waiver and hassle-free conversion of all KrisFlyer miles conveniently credited directly into your KrisFlyer account
Receive 1,500 KrisFlyer miles for each approved supplementary card
first year annual fee waiver, worth S$176.60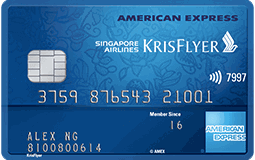 HSBC Infinite Credit Card
The HSBC Infinite card is perhaps one of the better travel credit cards you can get, if you spend with multiple airlines, since it offers an expedited miles earning perk.
As far as earning miles, cardholders enjoy an AirMiles rate of S$1 for 1 mile on all local spend in Singapore and S$1 for 2 miles on all spend overseas. This increase in your second year of owning the card to S$1 – 1.25 miles and S$1 – 2.25 miles.
You'll also enjoy 1 complimentary limousine transfer and 1 expedited immigration clearance with every S$2,000 spent on eligible purchases in a month, up to 24 times each in a calendar year. Plus automatic travel insurance with coverage for over 20 benefits of up to US$2,000,000 when you charge the full travel expense to your HSBC Visa Infinite card.
Additionally, Tee off on some of the most beautiful and well-manicured courses and enjoy golfers' insurance coverage at golf courses around the world, with our compliments.
Complimentary Green Fees
Perfect your swing with rounds of golf at Serapong course at Sentosa Golf Club, where HSBC Visa Infinite main cardholders enjoy complimentary green fees* all year round.
Up to 30% off Green Fees at 30 Participating Golf Clubs
Visa Infinite cardholders enjoy up to 30% off green fees# at 30 participating clubs in South East Asia.
Complimentary Golfers' Insurance
You can have peace of mind when you play golf at any course around the world. Simply charge the fee for the game to your HSBC Visa Infinite card to enjoy coverage of up to S$500,000+ for incidences or mishaps during your golf game.
Priority Pass™ Membership card giving you access to over 700 VIP airport lounges worldwide
Enjoy one complimentary limousine transfer and one expedited immigration clearance with every S$2,000 spent on eligible purchases in a month
Complimentary worldwide travel insurance up to US$2 million when you charge your full travel expense
Earn miles faster with up to 2.25 are miles for every S$1 spent