The Best Of Both Worlds For Credit Card Rewards
Credit card users are getting more discerning when it comes to choosing the credit cards they want. In the last decade, credit and charge cards statistics from the MAS show that we've seen the first decline in the number of cards owned since 2015. When most banks are offering cards with similar types of benefits, there are only so many cards a single applicant would make space for in their wallets.
According to a credit card survey done last year, it appears that cashback was the favourite reward card users love, and that cardholders spent the most on travel expenses on their credit cards. This is why Bank of China's Visa Infinite card hits the sweet spot.
The card offers both cash rebates on your spending, as well as travel perks for frequent flyers. Those who travel often will love these features:
Waiver of 1.5% currency exchange fees on all overseas transactions
2 complimentary access per year at participating Plaza Premium Lounge worldwide
Complimentary S$1 million travel insurance
While having a complimentary travel insurance may be quite common for specialised travel credit cards, we deem the waiver of the 1.5% currency exchange fees a pretty attractive offer compared to the rest. Imagine spending an average of $1,000 per trip over 6 trips a year – you'd get to save $90 in transaction fees alone, which is a fee you'd undoubtedly incur if you use other credit cards.
The two free access to Plaza Premium Lounges will also guarantee that you get yourself comfortable before or after a flight. Indulge in prompt and impeccable services such as airport dining, spa, business centres, transit hotel and baggage delivery if you need them. Plaza Premium lounges are available in over 30 cities, including Singapore, Hong Kong, London, Shanghai and Sydney.
In terms of lifestyle spending and perks, the BOC Visa Infinite credit card has a host of attractive benefits that comes with it.
Enjoy 1% cash rebate on all purchases made in Singapore, with no minimum spend and no earning cap. But wait, the BOC is now running a limited promotion that allows cardholders to earn an unlimited 1.8% cash rebate until 31 Dec 2017 on all local purchases with a minimum monthly spend of $2,000. The closest competitor to this is probably the AMEX True cashback card, which offers a 1.5% flat cashback rate.
If you have some upcoming large ticket purchases, signing up now will definitely make it worthwhile! Imagine saving a minimum of $216 for the next 6 months if you are spending a minimum of $2,000 on your card anyway. What's more, a combined spend by the principal and supplementary cardmembers is permitted for the awarding of the cash rebate, making it really easy to hit the minimum spend amount.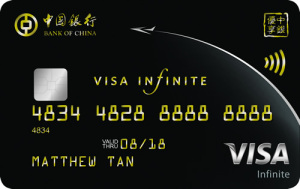 Enjoy interest of up to 3.55% p.a. on your BOC Multi-Currency Savings account when you spend a minimum of S$1,500 on your BOC Visa Infinite Card
The BOC Multi-currency savings account is a statement-based consolidated account covering both local currency and nine foreign currencies. It offers a great channel for your foreign currency conversion transactions and enables users to view each currency transaction at one glance, facilitating your account management. With the BOC Visa Infinite, you get to earn attractive interest rates of up to 3.55% with a minimum spend if $1,500 on your card every month.
24-hour lifestyle concierge
Exclusive dining privileges:
The card is a good deal for those who appreciate good food, offering a great discount when you dine in groups at selected restaurants. Some of these restaurants include familiar names like Peach Blossoms, Aquamarine at Marina Mandarin, Chatterbox, Wakanui Grill as well as Restaurant Absinthe.
Enjoy priority medical queue at 65doctor by booking online
A unique benefit that comes with the card is the priority medical queue you get when you book your medical appointment on 65doctor.com. The website allows you to book an appointment online with its network of doctors that includes GP clinics, specialist doctors, dentists and even TCM clinics.
First year annual fee waiver
With so much competition around, many credit card holders are increasingly expecting banks to offer them a fee waiver for their cards. The BOC Visa Infinite offers a one-year fee waiver.
Overall, the card makes for a good choice for those who want both travel benefits as well as cash rebates. The minimum annual income is on the higher side though, requiring an annual income of S$120,000. Keen to get the card? Sign up here today for unlimited 1.8% cash rebates from now till 31 December 2017!