Should You Consider Using Contactless Payment
There is no doubt that mobile commerce is accelerating at a stunning pace and Singapore is one of the leading countries around the world that is facilitating the ease of using mobile payments. Take a look around and you will see so many forms of contactless payments around integrated into parts of our everyday life – EZ-link cards, paying with mobile phones at the supermarket or using your mobile apps for purchases. With a high mobile phone penetration rate, it is no surprise that Singaporeans are receptive users of such technologies that integrate payment solutions with convenience. But do you know that other than convenience, certain ways of contactless payments can help you save more money as well? Here's a quick overview of the different ways you can pay contactless and the type of perks you can get:
Apple Pay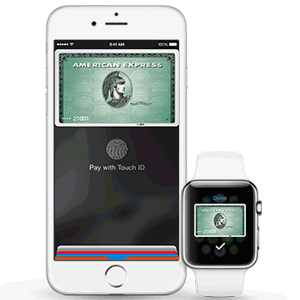 Judging by the number of people still queuing up to get the latest iPhone, Apply Pay is potentially
one of the most popular mobile digital wallet that is widely used in Singapore. Launched earlier this year, Apple was a step ahead of its rivals, Samsung and Android in rolling out its digital wallet.
Not only is it easy to use, you can also use Apple Pay at several stores that consumers here purchase on a daily basis – Starbucks, Breadtalk, Food Republic, 7-11 and Fairprice. This means that you no longer need to keep going to the ATM to withdraw money, your wallet can be lighter (in a good way!) and payment for your purchases is faster without having to search for your wallet in your bag. As part of the rolling out promotion, Apple Pay offered a number of perks to users and there are still some attractive ones around if you haven't jump on the bandwagon yet – $10 cashback for new DBS/POSB Apple Pay users as well as a 5% cashback for DBS Visa Debit Card when you use contactless spend.
Android Pay
Android Pay is Google's answer to Apply and Samsung Pay. Launched in June this year, the key difference between Android Pay and Apply Pay is that you do not need the latest phone models to enjoy the ease of contactless payments. In terms of ease of use, it probably wins out as well — you do not even need to unlock the phone and requires no Pin authentication or fingerprint, at least not after a third transaction. And to take it a step further, Google is aiming to integrate reward programmes onto Android Pay as well, so that the rewards-earning process is automated when you use it!
Visa payWave
If you still prefer using your credit cards, there's also a way to go contactless. Long gone are the days where you need to hand over your card to the cashier, wait for their processing and return a receipt to you for your signing. These days, you can pay with your card just by "waving" it next to the card-reader! Using Visa payWave on your credit and debit cards earn you the same rewards and discounts you will get with your Visa card with no extra charges. Also, look out for exclusive payWave perks such as a 3% rebate on transactions made on the UOB Delight Card.
MasterPass
 Obviously if Visa does it, MasterCard will have to roll out a similar service for its customers! The answer to Visa payWave is MasterPass, a similar payment method where you can "wave" your MasterCard at the Card reader and have your payment made. Current promotions include a 10% admin fee waiver when you book a cab via MasterPass on the ComfortDelGro Taxi Booking App, a free $5 voucher when you use MasterPass with a minimum spend of $50 when you shop at Watsons and an additional $20 discount with every $200 spent on KrisShop Online.
We have been using NETS to pay for our purchases since time immemorial and the company has not released a contactless version that lets card users pay contactless at over 91,000 acceptance points. Use it to pay for your public commute, supermarkets, car park charges and even selected hawker centres! While it is not a credit card, you are rewarded with NETS' partner merchants as well. The downside is that you will need to top-up your card with cash, unlike a credit card which comes with its own spending limit.
With the wide array of contactless payment methods, the trend definitely looks to stay and seem to point our future towards an increasingly cashless society. So why pay with cash anymore when you get convenience, rebates and rewards by going cashless?