We're finding you the right Credit Card.
Best Credit Card for Miles in Singapore
If you are looking for the best credit card for miles, then you are in the right place. Here at EnjoyCompare, we have shortlisted the best miles cards, so you can easily and quickly find the best travel card. So make your travel spend count and start earning Air Miles today. The best travel and air miles credit cards offer similar travel rewards and are connected to the most common air mile programs, however, the fine-print is slightly different and it's this that makes the difference. Its therefore very important to understand the restrictions and advantages of each travel card, to make an informed comparison. Make sure to look out for the following.
Best Miles Credit Card
Citibank PremierMiles Card.
HSBC Infinite Card.
American Express KrisFlyer Card.
American Express Ascend Card.
UOB PRVI Miles Card.
Best Miles Card
We are your one-stop shop for finding the very best miles cards offered in Singapore. Whether you search by card category or card brand, we bring you the best deals and promotional offers to help give you a quick overview of the best travel cards. When using EnjoyCompare and looking for the best credit card for miles, keep an eye on the following:
The card's annual fee.
Whether the card offers a fee waiver.
Miles earning ratio the card offers.
Eligibility and minimum salary requirements.
Do the miles expire.
With the information we provide, you can make an informed decision about the most suitable card for your needs. helping you find the best air miles card. However, our team of experts have crunched the numbers and it looks like the HSBC Infinite and SCB Infinite are the best for accumulating the most Air Miles.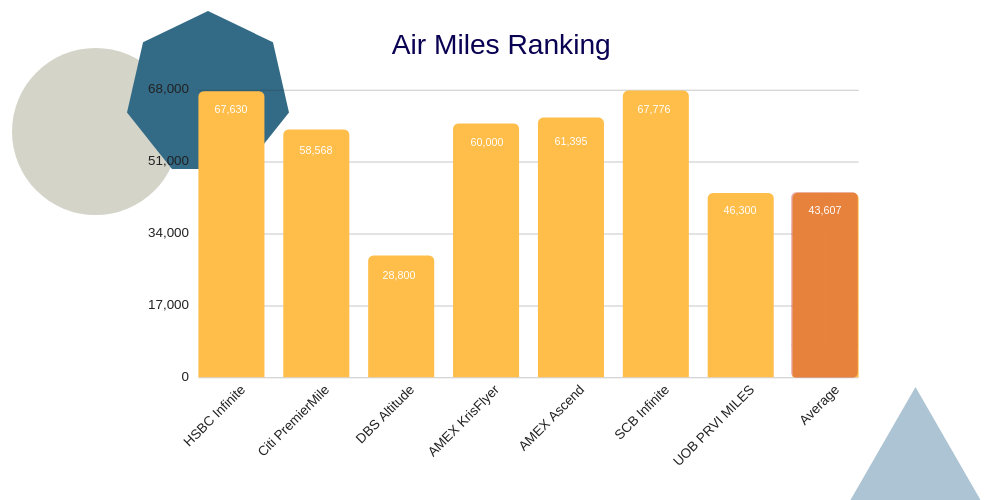 *Based on a spend of $24,000 a year (minus any obvious admin or annual fees), we have calculated the following air miles generated by each card. Assuming all spends are local.
What is an Air Miles Credit Card?
Air Mile credit cards are also known as Travel cards, Frequent flyer cards or Miles cards. They offer Air Miles or Rewards Points (which can be transferred into air miles) in exchange for every dollar you spend on your credit card. These Air Miles can then be used to help reduce the cost of your next holiday's airfare. The Miles card has almost become an addictive sub-culture for Singaporeans, with cardholders amazing huge discounts and reward flight upgrades with Singapore Airlines. However don't expect to be flying around the world just yet, as it's not that easy!
Frequently Asked Questions
How many air miles does it take to get an upgrade? It depends on the airline. Most airlines offer a 1 for 1 card miles to their frequent flyer program. With Singapore Airlines Krisflyer requiring 15,000 to 52,000 miles to upgrade from economy to premium economy.
How many air miles does it take to get a free reward flight? Again it depends on the airline. Singapore Airlines Krisflyer requires 15,000 to 75,000 miles for a reward flight, depending if its short-haul or long-haul. However, remember you still have to pay the tax associated with your ticket.
Which miles card should I get? Get a miles card that offers a good spend to miles ratio, that can then be easily transferred to your chosen frequent flyer program e.g. Krisflyer. Watch out for transfer admin charges and pick a card where the miles don't expire.
Points to Air Miles Exchange Rate
Most travel credit cards offer points for every S$1 spent on the card, either local or overseas. However the points they offer then need to be converted into Air miles of the airline you choose. Therefore make sure to compare the S$1 to Points rate and the points to Air Miles rate. For example, the Citi PremierMiles credit card offers S$1 = 1.2 Citi Miles on local spend, with a 1 for 1 conversion of Citi Miles to AirMiles.
Air Mile Transfer Fees
Most AirMiles cards charge a fee to transfer your points into the Air Miles program you choose. Therefore make sure you understand the charges, before collecting the points. For example, the American Express Krisflyer card is free of charge, where HSBC charge an annual programme fee of S$42.80 (inclusive of GST).
Air Travel Credit Card – What to look out for
Most air mile credit cards in Singapore come with similar travel privileges, however, it's worth checking the fine print to ensure you're getting a comparable benefit. We use the following criteria to judge the best travel cards.
Annual Fee – Miles cards have long been seen as a solid bet when applying for a credit card, as the value received from the card, usually outweighs the annual fee. However make sure you check the annual fee and check to see if you can receive a fee waiver and still enjoy the complete card benefits, as some providers limit the welcome offers to fee-paying cardholders only.
Priority Boarding – We all know the feeling of waiting and waiting to board a plane, and we all know it makes no difference if we sit in the lounge or on an aeroplane. However, priority boarding does mean you can comfortably and slowly find your seat and get settled before the crowd and pushing starts. Check to see if your miles credit card offers priority boarding, check to see for which airlines and if there is an annual limit.
VIP Lounge Access – Who doesn't want a nice quiet place to rest before a flight, perhaps with some free food, a newspaper, or maybe somewhere to charge your phone. VIP lounge access is a fairly standard privilege offered across most air mile credit cards in Singapore. However, they are usually limited to participating lounges and may also be limited to 4 free passes a year.
Travel Insurance – With most frequent travellers or business travellers paying for extensive annual travel insurance, this can seem an unnecessary privilege. However, the free travel insurance offered with air mile travel credit cards is sometimes easier to claim then via your work insurance and may cover situations that aren't covered with more standard travel insurance policies i.e. gadget insurance.
Express Immigration – Immigration at some South East Asia countries can be very time to consume, especially if you are travelling frequently or at peak times. Therefore the benefit of express immigration is simply amazing!