Standard Chartered Visa Infinite Credit Card
Standard Chartered Visa Infinite Credit Card
Standard Chartered
Rewards

Receive 35,000 miles

Annual Fee

S$588.50

Fee Waiver

No

EnjoyCompare

Rating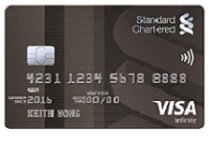 Earn up to 3 miles for every S$1 spent
Enjoy up to six annual complimentary visits to over 850 airport lounges worldwide
Enjoy exclusive Resort & Hotel Privileges with the Visa Luxury Collection
Enjoy complimentary green fees all year round at Sentosa Golf Club
Complimentary travel insurance coverage of up to S$1,000,000 when the full travel fare is charged to your card before you go abroad
Choose between 35,000 miles or 15,000 miles and a 28" Samsonite Lite-Shock Spinner (worth $950) when you apply today – Read More
Standard Chartered Visa Infinite Credit Card
Credit Card Review

Standard Chartered Infinite Card
The Standard Chartered Visa Infinite Credit Card has been created with some amazing benefits to suit your lifestyle!
Get 35,000 miles or 15,000 miles + 28"Samsonite Luggage Bag as a welcome gift when you sign up and pay the annual fee of $588.50
Enjoy bonus miles when you spend $12,000 within 60 days of approval. Promotion ends 17 June 2017
Earn 36,000 Miles on your foreign spend of $12,000. Based on 3 miles per dollar spent
The array of elite indulgences includes Hotel & Resort privileges at the Fullerton Spa, the Visa Luxury Hotel Collection, exclusive Raffles Hotels & Resorts Rewards and enjoying the Hilton HHonors™ Gold Status
The Visa Infinite Concierge and Emergency Service is available 24 hours a day, seven days a week to fulfill your lifestyle needs from flight, restaurant and hotel reservations
Visa Infinite privileges ensure your adventures are taken care of by providing complimentary travel insurance coverage of up to S$1,000,000, when you charge your full travel fare to your card
Enjoy premium privileges from dining, travel, fashion and electronics at your fingertips with The Good Life® app
Apply now to enjoy the endless list of privileges!!
Author:
EnjoyCompare
Detailed Description
With the Standard Chartered Visa Infinite Credit Card, you can enjoy a lifestyle full of indulgences.
Participating luxury boutiques hotels and resorts in the Visa Luxury Hotel Collection means you can make the most of upgrades and VIP rates at hotel brands like Mandarin Oriental, Park Hyatt, Aman Resorts and Six Senses Resorts.
Yacht Privileges – Enjoy special rates from S$800 to hire a luxury yacht in Sentosa.
Golf Privileges – Main cardholders enjoy complimentary green fees all year round at Sentosa Golf Club, Singapore.
Exclusive Gold Glass Infinite Experience Package rates.
Hertz Car Rental Privileges include 10% off self-drive rentals and complimentary day of rentals, with one car class upgrade and complimentary Hertz Gold Plus Rewards membership.
Frequent travellers receive 10% cash rebate for every Uber ride you make in over 395 cities worldwide, enjoy up to six annual complimentary visits to over 850 airport lounges via the Priority Pass lounge programme and travel in style and luxury at exclusive rates with AsiaJet.
In addition, get your complimentary travel insurance coverage when you book any travel ticket using your Standard Chartered Visa Infinite Credit Card.
The Rewards Programme allows you to charge your income tax to your card and Earn Reward Points. With the inexhaustible travel, shopping, golf and lifestyle offers the Standard Chartered Visa Infinite Credit Card is the way to enjoy the best things in life.
What's more, enjoy cash at 0%* p.a. interest for 6 months at a 1.99% processing fee (EIR from 4.12% p.a.) on the approved loan amount when you transfer funds from your Standard Chartered Credit Card.
*The 0% interest offer is valid for either 6 or 12 months tenor from the date that the Funds Transfer is approved, after which the prevailing interest rate applies.
Terms and conditions apply.
Best Standard Chartered Card
Still not sure which Standard Chartered credit card to get? Then why not compare all the best Standard Chartered cards, here on EnjoyCompare Singapore.
Eligibility
Eligibility
Age: 21 to 65 years old
Minimum Annual Income
For Priority/Private Banking customers:
Singapore Citizens and Permanent Residents: S$30,000
Foreigners with Employment Passes: S$60,000
For Non-Priority/Private Banking customers: S$150,000
Employment Pass Holders
Foreigners must be holders of P1, P2 or Q type Singapore Employment Passes
Q Pass holders must have minimum one year validity remaining on their passes
Enjoy Compare is an independent information provider. It is not a bank or financial services provider, and cannot give direct financial advice.
The content of the comparison website provided by Enjoy Compare is provided "as is" for general information purposes only. It does not constitute advice nor does any part of the content constitute an open offer capable of forming the basis of a contract. It is up to the user to ensure information is accurate at the point of submitting an application on the suppliers website.