MyRepublic Broadband Exclusive Promotion
MyRepublic has always offered value for money when it comes to the best Fibre Broadband in Singapore. However, this has all changed, as they now offer outstanding value for money, with a new EnjoyCompare exclusive discount and promotion.
That's right, now new customers can enjoy a range of sign-up offers on the MyRepublic 1Gbps broadband deal. With Free Terminal Point Installation and 5 Months free broadband, you can enjoy great savings with Enjoycompare.
Broadband Package Details:
FREE Terminal Point Installation (Worth $235.40)
FREE 5 Month Broadband subscription (Worth $249.95)
FREE Home Voice Subscription
FREE 3 Month F-Secure Internet security
S$200 Router Discount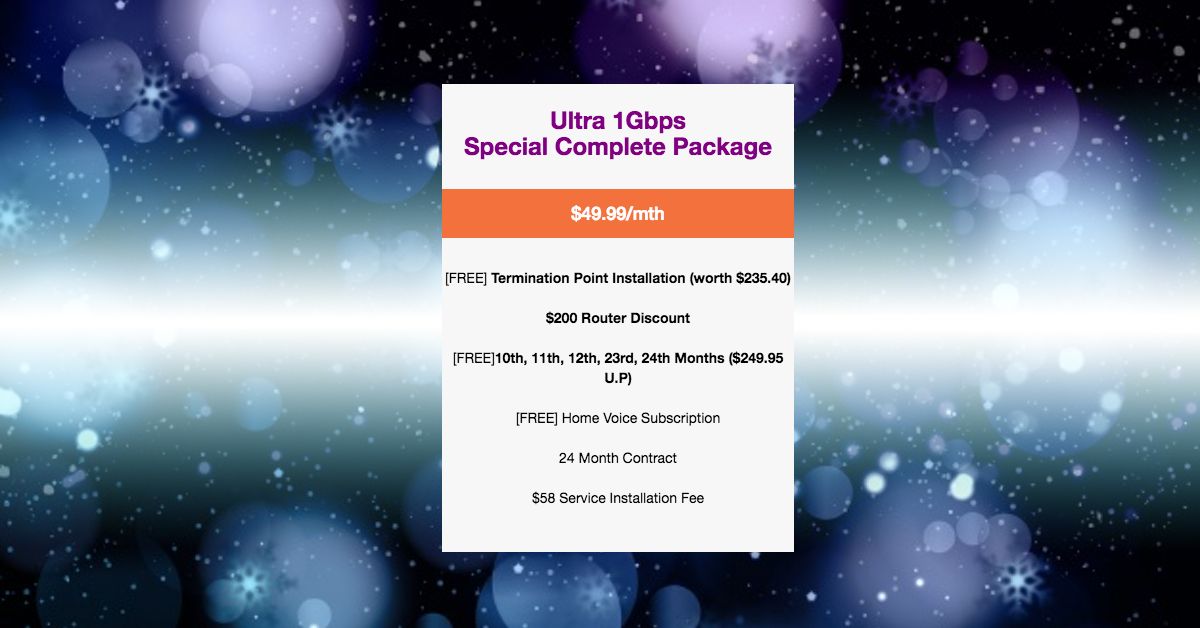 MyRepublic are not only offering a great sign-up deal, but they also provide a superior service, with a priority promise, latency monitoring, home voice service and VPN services.
MyRepublic Priority Promise
Unlike other telco's in Singapore, MyRepublic prides themselves on never Throttling your broadband bandwidth. This means you never get penalised or experience speed caps, depending on the amount you download. That means no BitTorrent throttling while ensuring time-sensitive applications – like video streaming – are protected and run smoothly while being flexible for heavy data uses.
Latency Monitoring
MyRepublic manage their network, so you don't experience service issues. This means their adaptive traffic priority system ensure you get your plan's full bandwidth for streaming, gaming, voice and web surfing 99% of the time.
Home Voice Services
We all like Skype, but you can't beat talking over a standard phone. That's why MyRepublic offers excellent voice service, with Best-in-Town IDD Rates, including 6c/minute calls to China, USA and India. What's more MyRepublic ensure Video conference calls are among the network's highest priority traffic, meaning they are uninterrupted even during peak hours.
If however you are worried you might lose your home phone number? Don't worry simply take your number with you. New MyRepublic customers can port their existing home phone number over to MyRepublic Home Voice.
MyRepublic VPN
If you are worried about internet security and want to access content from anywhere, without geographic restrictions. Then MyRepublic VyprVPN is the perfect add-on. Enjoy Multiple Encryption Tools for Customisable Security, With OpenVPN™, L2TP, PPTP and Chameleon™, VyprVPN users can choose the level of encryption, speed, and protection they want. What's more, you can use VyprVPN across all your devices, with 3 simultaneous connections.
So if you are looking for one of the fastest fibre broadband deals this Christmas and want to save $485.35… Then our Exclusive MyRepublic 1Gbps broadband promotion is for you! Simply apply via EnjoyCompare and use the following promotion code 'MRxEC'
If this exclusive MyRepublic offer doesn't suit you, then why not compare all broadband deals in Singapore with our broadband comparison engine.