ViewQwest 1Gbps Orbi Mesh Fibre Broadband
FREE Modem Rental worth $267.50.
FREE 1 Static IP Address worth $240.
FREE Delivery & Installation worth $80.
FREE 24 months OneVoice worth $144.80.
WAIVER Admin Fee worth $53.50.
BOOST to 2Gbps for +S$10/mth.
FREE 3 months FreedomDNS worth $32.10.
Enjoy 3 month FREE subscription.
Review Text

Broadband Detailed

Provider Details
Broadband Review
At $51.90 per month for 1 Gbps over 24 months, ViewQwest has some really neat features. They give you 3 Months Freedom DNS free of charge (optional @ $10.70/mth thereafter), allowing you to surf the website you like, without worrying about region restrictions, as well as protecting the data you send and receive. Whats more they offer a  static IP and guaranteed bandwidth of 99% as standard across all broadband plans.
Bit-Torrent Broadband
ViewQwest isn't worried about Bit-Torrent, as peer-to-peer file sharing is an amazing way to share large files, backup your data and do a multitude of other high bandwidth intensive things (legally!) So you won't experience any Bit-Torrent restrictions, as long as you use the technology responsibility.
Absolutely Zero Traffic Throttling
ViewQwest believes customers should always get the full bandwidth you pay for (unlike some providers in Singapore, which restrict broadband speeds), that's why ViewQwest don't do any kind of Traffic Shaping – or Traffic "throttling" – Just pure speed!
Common Questions:
What third-party router can I use in my home with the modem/router? In essence, you can use any third party router that can be set as an Access Point (AP).
I can't get more than 1Gbps, is this normal? Yes – Each wired connection on the modem or router, and on the third party router, cannot go beyond 1Gbps. However, the combined total bandwidth of all devices in your household is 2Gbps.
I want to connect more routers to the modem in order to get better Wi-Fi coverage, is this possible? Yes – The diagram here is an example of a simplified setup. As long as all your third-party routers are configured to Access Points (APs), you can connect up to 4 of them to the modem to gain huge Wi-Fi coverage and a large number of wired connections.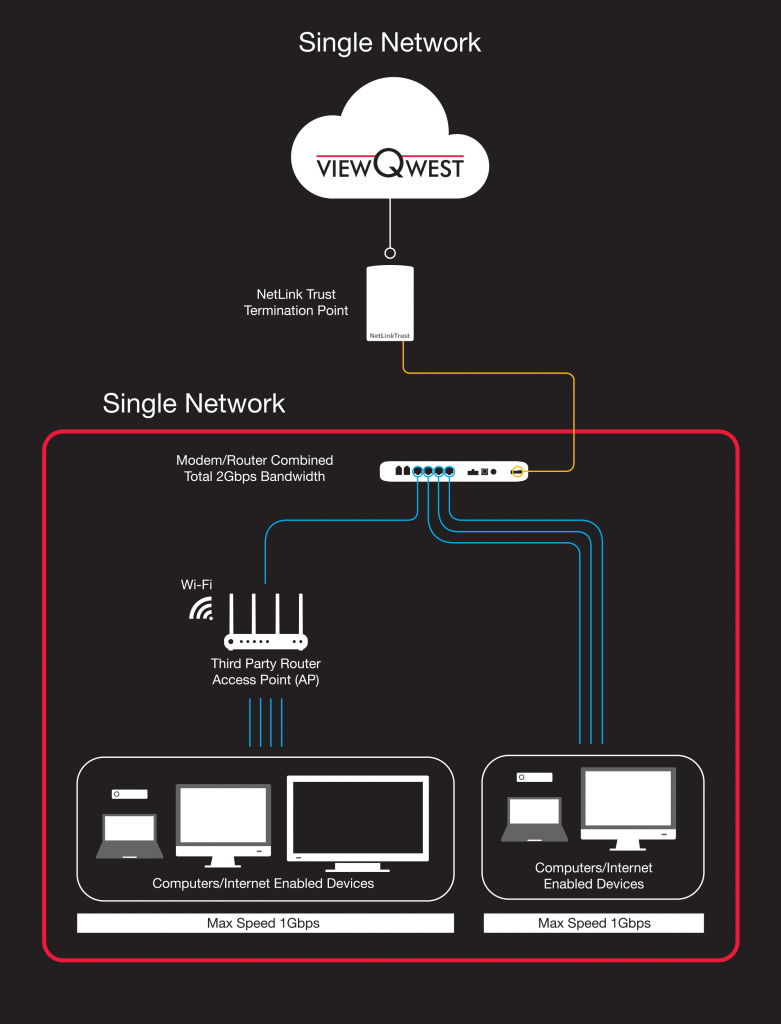 Lastly, ViewQwest customers enjoy a huge Upload Speed of 1Gbps, dwarfing the competitor's uploads speeds. So if you are interested in getting the fastest broadband package in Singapore, at a fantastically low price, then ViewQwest is the best!
Best ViewQwest Broadband Plans
Still not sure what ViewQwest broadband plan is best, then why not check out the best ViewQwest broadband plans here at EnjoyCompare.
Broadband Details
"ViewQwest is a boutique ISP that is fanatical about customer service"
ViewQwest strives to empower its subscribers with the freedom to access entertainment content and to surf with no limitations.
ViewQwest was established in 2001 as an Internet Service Provider (ISP), across Singapore. With the ViewQwest Freedom DNS, customers are empowered to watch thousands of movies, TV shows and more, from a plethora of online streaming services such as Netflix, Hulu, PPTV China, etc. Without the restrictions of regional controls and complete protected/secure.
ViewQwest prides itself as the innovative ISP that pioneered the removal of restrictive industry practices like international bandwidth caps and traffic shaping (a common practice during the monopoly days of Starhub, M1 and Singtel).
What's more, the ViewQwest team are fanatical about customer service, this means no voice machines and no scripted responses, just the human touch. So ViewQwest customers can easily reach out to ViewQwest support through phone, chat or email.
Provider Details
ViewQwest in one of the newest entrants to the Singapore's telecom scene. With an aim to provide premium internet services, they provide communication services to both business and residential customers.
EnjoyCompare Rating 4 out of 5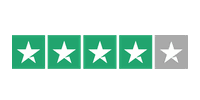 Based on 1,102 reviews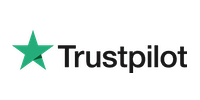 Join us and start getting money saving tips!
We won't share your email data with anyone and you'll have complete control to unsubscribe if you get bored. So don't delay, sign-up today!