Citibank SMRT Credit Card
Enjoy up to 5% savings on groceries (Up to 7.3% at FairPrice Xtra Kallang Wave).
Enjoy up to 5% savings on fast food, movies and coffee.
Enjoy up to 3% savings on online shopping.
Enjoy up to 1% savings on selected telecommunications, insurance and town council bills.
Citibank SMRT credit card offers convenient EZ-Reload facility to enjoy Auto Top-up when your EZ-Link value is insufficient.
Rewards
The best card for your everyday need
Credit Card Review

Detailed Description

Eligibility
Credit Card Review
Citibank SMRT Credit Card
The CitiBank SMRT card is not new, but is one of the first in the market to link up with EZ-link to enable an auto top-up function. This was a welcomed feature by many, since paying by EZ-link on our public transport is the main payment method and combining it with a credit card means one less card to carry in the wallet. The auto top-up function also saves us time from joining the long queues to add money to our cards' and what's more, the Citibank SMRT card actually gives you a 2% rebates on top up in the form of earning SMRT$. Other than the convenience of EZ Reload, the card is great for everyday usage, with rewards earned on grocery shopping and discounts on your daily coffee.
The card has 2 system of rewards and rebates – Citi Rebate and SMRT$, allowing you to earn more savings while spending for necessities. These reward points can then be used to redeem vouchers.
Citibank Vouchers
You can earn a 2% SMRT$ on your Auto EZ-link top up (when above $30 and monthly bill statement of $300 and above), so using a $300 public transportation spend a month, you will earn (2% x $100) x 12 months = 72 SMRT$ worth of rewards. Each SMRT$ equates to a $1 value of voucher, which can be redeemed for movie tickets or $10 vouchers for spending at Watson's or Giant Supermarket. Alternatively cardholders can earn 1% SMRT$ awarded for EZ-Reload transactions of $30 or less. For monthly statement retail purchases of less than $300, SMRT$ earn rate will be 0.3% less.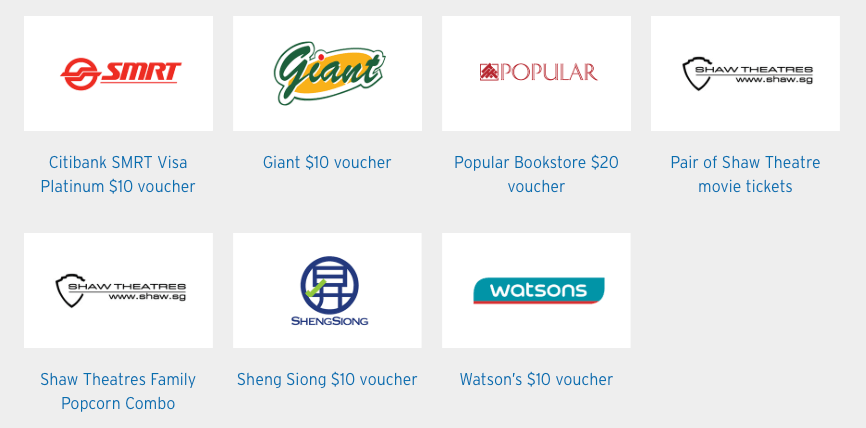 Citibank Privileges
The Citibank SMRT Card also provides a great deal of Citi Privileges that is available for all Citibank card members. Card eligibility is easy, with just $30,000 annual income for Singaporeans; and card fees are waived for the first two years!
Enjoy up to 10% Citi Rebate at over 500 locations islandwide, including Sheng Siong, Starbucks, Bysi and Burger King.
Enjoy great dining deals in Singapore, from fine dining to casual food spots or seasonal exclusive promotions with Citibank.
Enjoy this month's retail therapy specials, with your Citibank SMRT Card.
Enjoy year-long savings, of up to 14%, at Esso and Shell.
Detailed Description
With the Citibank SMRT card, you can turn your daily spend into savings. The card comes with the convenience of an EZ-link card and the benefits you enjoy as a Citibank cardmember. With great rebates and card rewards islandwide, plus redeem vouchers and free rides across a range of regular merchants/shops.
With Citi rebates earned on your spending with your Citibank SMRT Visa Platinum Card, you can redeem SMRT for free rides, taxi rides as well as for groceries or dining vouchers at selected restaurants and more!
Terms & Conditions
As with every card, the fine print is important and below are a few stipulations.
For monthly statements of less than $300, SMRT$ earn rate will be 0.3% less.
4.7% SMRT$ is awarded for transactions of $50 and above. 2.7% SMRT$ is awarded for transactions less than $50.
+ 1.7% SMRT$ is awarded for EZ-Reload transactions of more than $30. 0.7% SMRT$ is awarded for EZ-Reload transactions of $30 or less.
With effect from your first Qualifying Period (in the case of a new Citibank SMRT Cardmember) or next Qualifying Period (in the case of an existing Citibank SMRT Cardmember) commencing on or after 7 February 2017, you may accumulate a maximum of 600 SMRT$ during any Qualifying Period. For clarity, the maximum SMRT$ that you may accumulate during your current Qualifying Period that commenced before 7 February 2017 shall be 280 SMRT$. A "Qualifying Period" is defined as the 12 month period commencing from (i) the date your Card is issued; or (ii) the date of the statement of account in the month your Card account is renewed. The aforementioned SMRT$ are offered and provided solely by Citibank Singapore Limited.
Best Citi Credit Cards
Still not sure which Citi credit card to get? Then why not compare all the best Citi credit cards here at EnjoyCompare
Eligibility
You must be aged 21 years old and above

Earn a minimum annual income of S$30,000
For foreigners, minimum annual income to qualify is S$42,000
For salaried employee: a copy of your NRIC/passport, latest original computerized payslip or Tax Notice of Assessment or last 12 months CPF statement
For self-employed: a copy of your NRIC/passport, last 2 years Income Tax Notice of Assessment and last 3 months' bank statements
EnjoyCompare is an independent information provider. It is not a bank or financial services provider, and cannot give direct financial advice.
The content of the comparison website provided by enjoy compare is provided "as is" for general information purposes only. It does not constitute advice nor does any part of the content constitute an open offer capable of forming the basis of a contract. It is up to the user to ensure information is accurate at the point of submitting an application on the suppliers website.
EnjoyCompare Rating 4 out of 5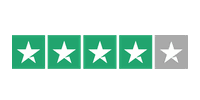 Based on 1,102 reviews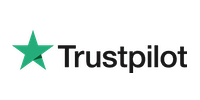 Join us and start getting money saving tips!
We won't share your email data with anyone and you'll have complete control to unsubscribe if you get bored. So don't delay, sign-up today!