American Express Ascend Credit Card – Krisflyer miles and much more!
If you are a frequent flyer in Singapore you will know that one of the best cards to have in your pocket was the Amex Singapore Airlines KrisFlyer, not only did it give you one of the largest volume of miles but also transferred them to your KrisFlyer account with no penalty loss. However that was then and this is now, Amex have updated their product and brought out a brand new card called Ascend.
From first appearance you would be excused from seeing the slightly increased annual fee and not see a huge volume of benefits. However when you look closer you will notice that there is a number of key factors – Double miles for the first 3 months, Complimentary Airport lounge access and for one night a year you can stay in a Millennium Hotel absolutely free of charge. However if you had the KrisFlyer card we assume that you are focusing on one thing…… miles! You will in that case be glad to know your miles will increase a lot quicker with the Ascend card than it did with the KrisFlyer card, combined with the fact that the first year has the fee waived.
Apply now and receive 2x KrisFlyer miles on all eligible purchases made in the first 3 months and 5,000 KrisFlyer bonus points! Plus earn double KrisFlyer miles with your Card at singaporeair.com, or spend at Tradewinds Tours & Travel or KrisShop, in-flight or online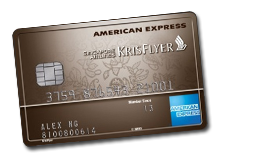 Apply Now – American Express Ascend Credit Card<
For more information and other reviews – www.enjoycompare.com