You'll probably know by now that Enjoy Compare isn't just about credit cards. We also give sound advice on loans, as well as help you to choose cheaper flights and hotel deals.
That means anything that crosses our radar about travel – and especially premium executive travel – interests us, not least if it involves our very own Singapore Airlines.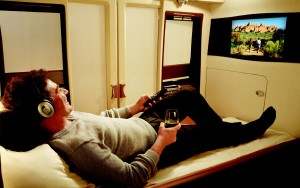 If you carry a premium card that collects Singapore Airlines Krisflyer rewards, then you're already on your way to cheaper flights and VIP treatment when you travel with our national carrier. However, we doubt if any but the most wealthy will be able to afford the service that Singapore Airlines is currently rolling out.
Welcome (if you've got the money) to the Singapore Airlines Luxury Suites.
For the majority of us, your flight is going to be toward the back of the aircraft with reasonably comfortable seats, enough legroom to just about stretch out, and a tray that is large enough (but only just) for your in-flight meal, just as long as the person in front of you doesn't decide to have a quick nap and spill your tiny tin of orange juice into your lap.
With the arrival of the Airbus A-380, that's all changed. While downstairs passengers get a bit more room (hooray!), those upstairs get a suite for two people with a double bed, TV screens and gourmet meals. It's a real double bed, and Singapore airlines say there'll be twelve to a flight, charging around $15,000 per ticket.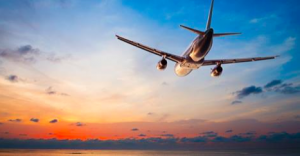 It's part of a trend toward super-luxury travel as our national carrier competes with the likes of Etihad for super-rich customers for whom fifteen thousand is nothing but small change.
Of course, save up enough Krisflyer points on your premium credit card, and you can fly in one of these too, experiencing the VIP lounge, cocktails, personal escort to the "pod", and – as night falls – a tuck-in service. Lovely.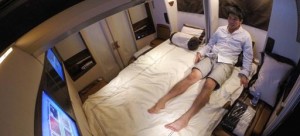 Be that as it may, we'd rather save up our points and travel with the real people downstairs. That's where all human life is, and we prefer it that way. Also, we don't have to spend quite so much to get enough reward points for a free ticket.